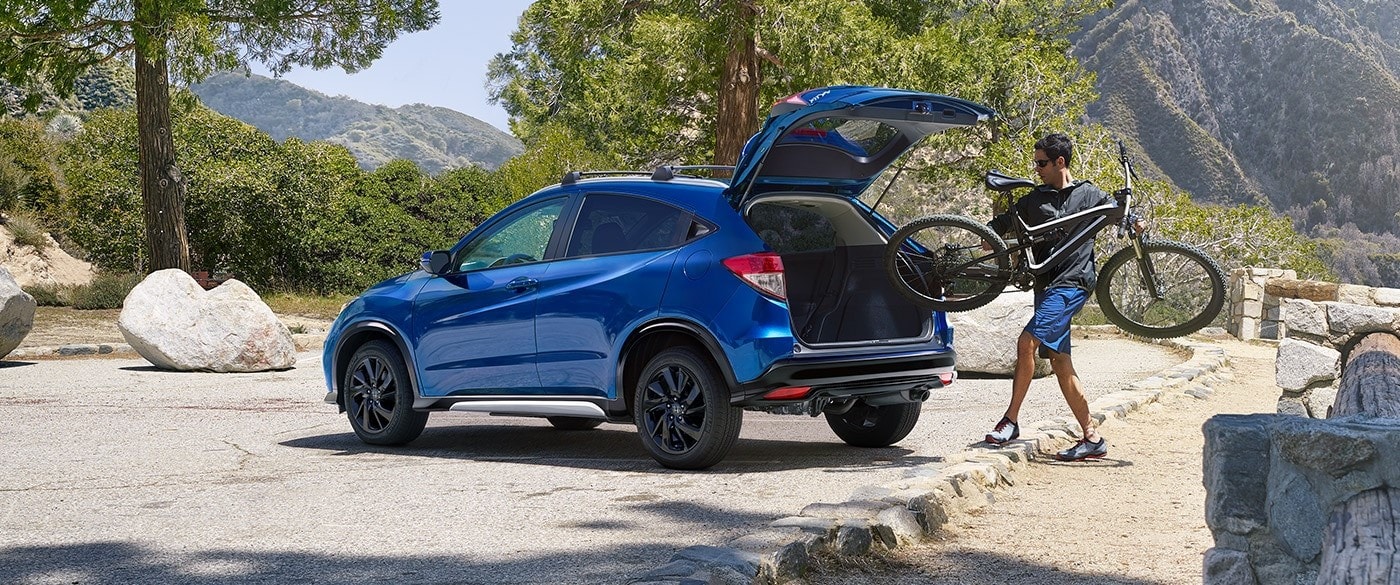 When you search "best SUV for camping," what do you find? Big, honkin' full-size SUVs with 7 seats, a billion cubic feet of cargo space, and missile defense systems. Probably. What won't you find? Subcompact crossovers.
The thing is, that era of cramped, sardine-can subcompact SUVs is over. Today's small crossovers are far more spacious, far more cleverly designed, and far more campsite-ready than their ancestors. Yet there's one small SUV that makes temporary off-grid life easier: The Honda HR-V.
Surprised? Don't be. Taking a cue from its bigger Pilot and Passport siblings, Honda's tiniest crossover fits the outdoorsy bill, offering AWD, more cargo room than most of its rivals and a starting price that won't break the bank. Best of all, with a redesigned 2023 HR-V on the way, your camping adventures are bound to get even better.
It's Got Space, Ya'll. Lots 'o Space.
Although it sits squarely in the "subcompact SUV" segment – alongside actual small crossovers like Nissan Kicks and Toyota C-HR – the 2022 HR-V doesn't really feel all that subcompact. In fact, apart from two or three models in the segment, the new Honda HR-V offers the most cargo volume in the entire class.
| | |
| --- | --- |
| Model | Cargo Volume (rear/front) |
| 2022 Honda HR-V LX | 24.3 cu ft / 58.8 cu ft |
| 2022 Nissan Kicks | 25.3 cu ft / 32.3 cu ft |
| 2022 Ford EcoSport | 20.9 cu ft / 50.0 cu ft |
| 2022 Toyota C-HR | 19.1 cu ft / 37.0 cu ft |
| 2022 Chevrolet Trax | 18.7 cu ft / 48.4 cu ft |
| 2022 Chevrolet Trailblazer | 25.3 cu ft / 54.4 cu ft |
| 2022 Mazda CX-30 | 20.2 cu ft / 45.2 cu ft |
| 2022 Hyundai Venue | 18.7 cu ft / 31.9 cu ft |
| 2022 Hyundai Kona | 19.2 cu ft / 45.8 cu ft |
| 2022 Subaru Crosstrek | 20.8 cu ft / 55.3 cu ft |
We even threw some non-subcompact crossovers in the mix (hello, Crosstrek) to showcase how truly spacious the new HR-V can be.
Our favorite camping feature of the Honda HR-V is its 2nd-Row Magic Seat, which you may be familiar with if you've owned a now-discontinued Honda Fit. The Magic Seat offers 4 unique cabin arrangements to accommodate different cargo-carrying situations.
Utility Mode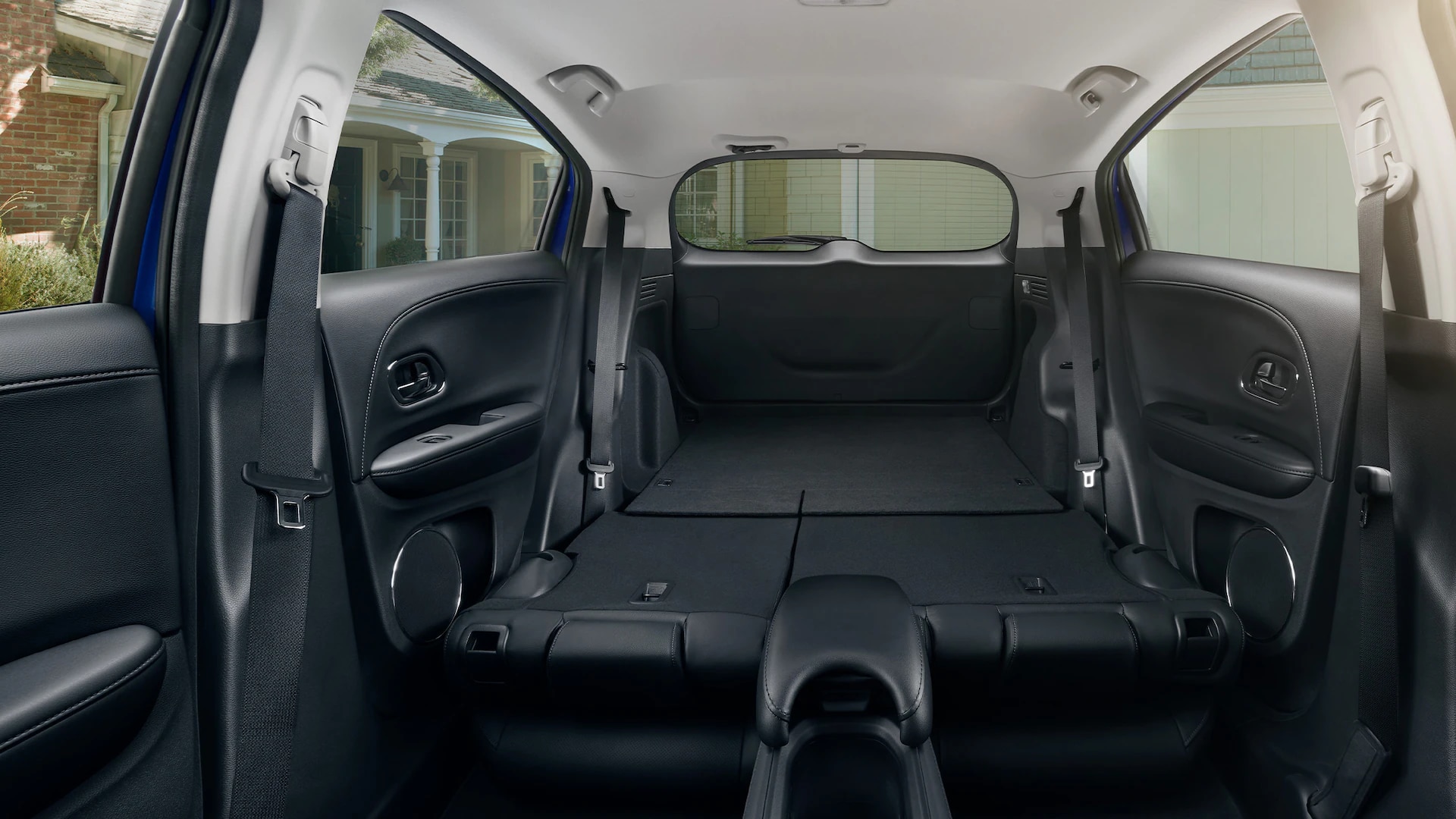 Maximize all 58.5 cubic feet of cargo space with the rear seats folded down and forming a flat surface for drywall sheets, an inflatable mattress, or camping tables.
Long Mode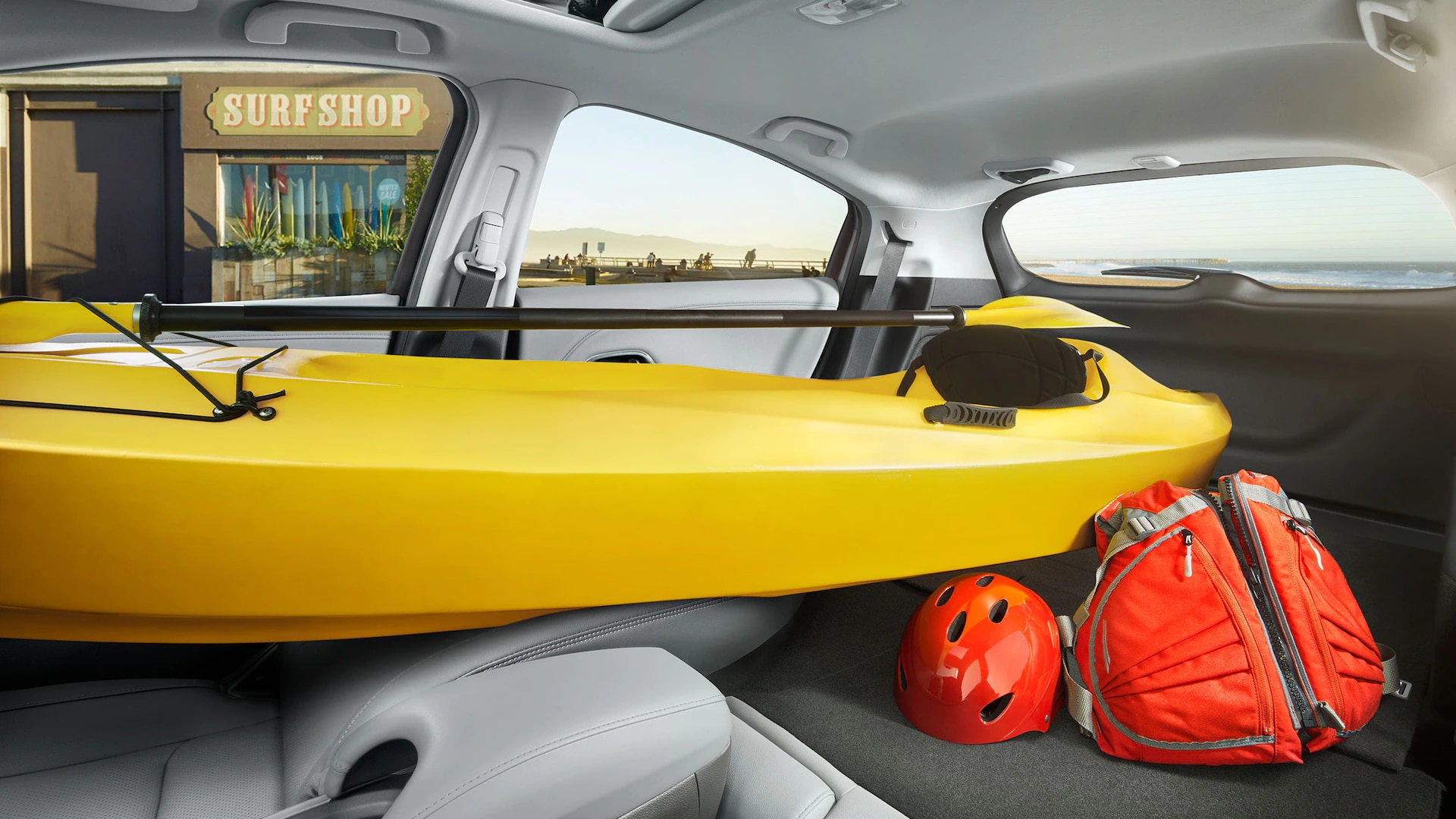 Fold down the rear row and front passenger seat to gain 8 feet of length – the perfect amount for a solo, white-water kayak or cardboard cutout of Bob Ross.
Tall Mode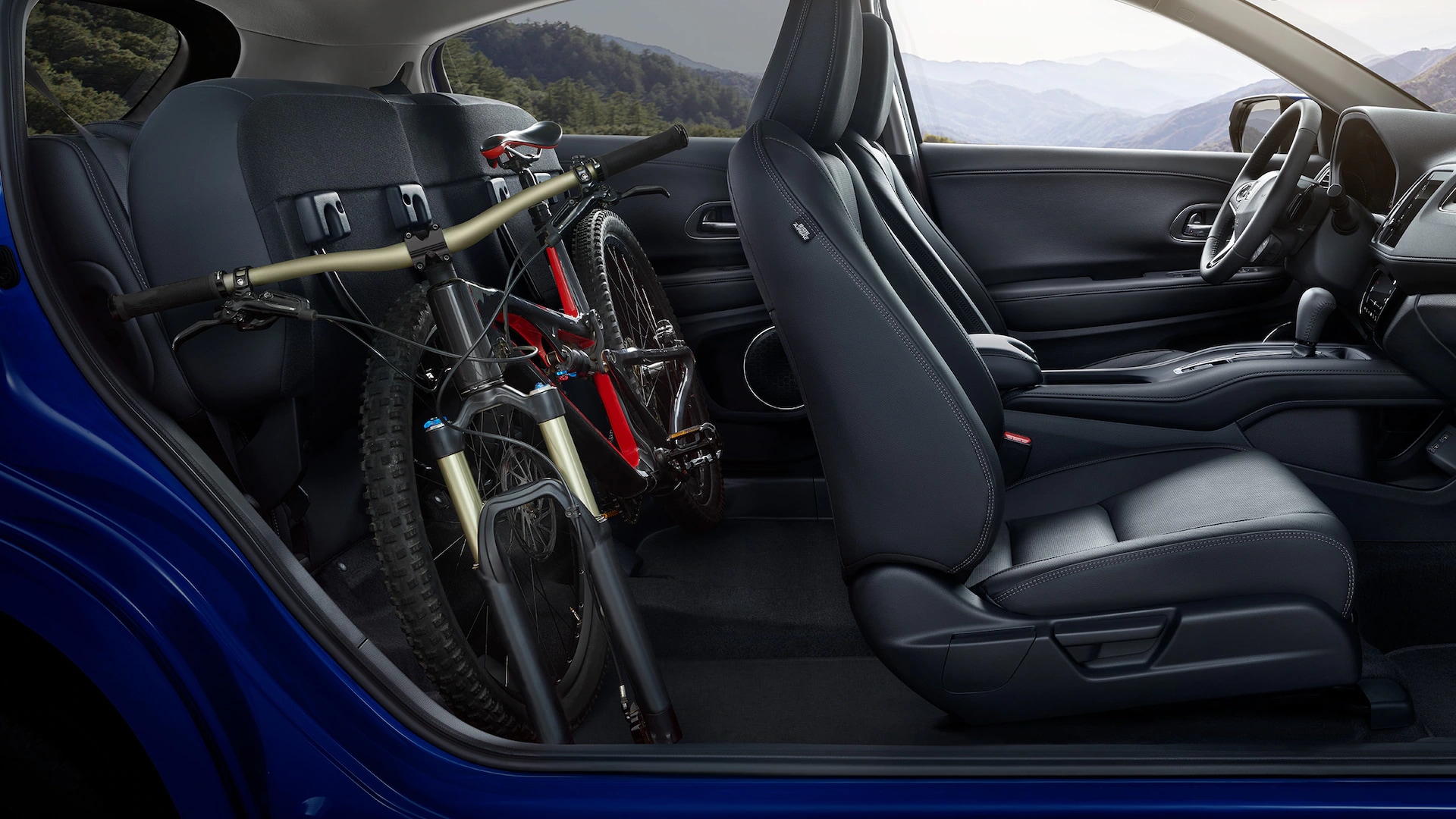 Flip the back seat cushions up to get 4 feet of vertical space, which should be enough room for a bike or dog crate.
Mixed Mode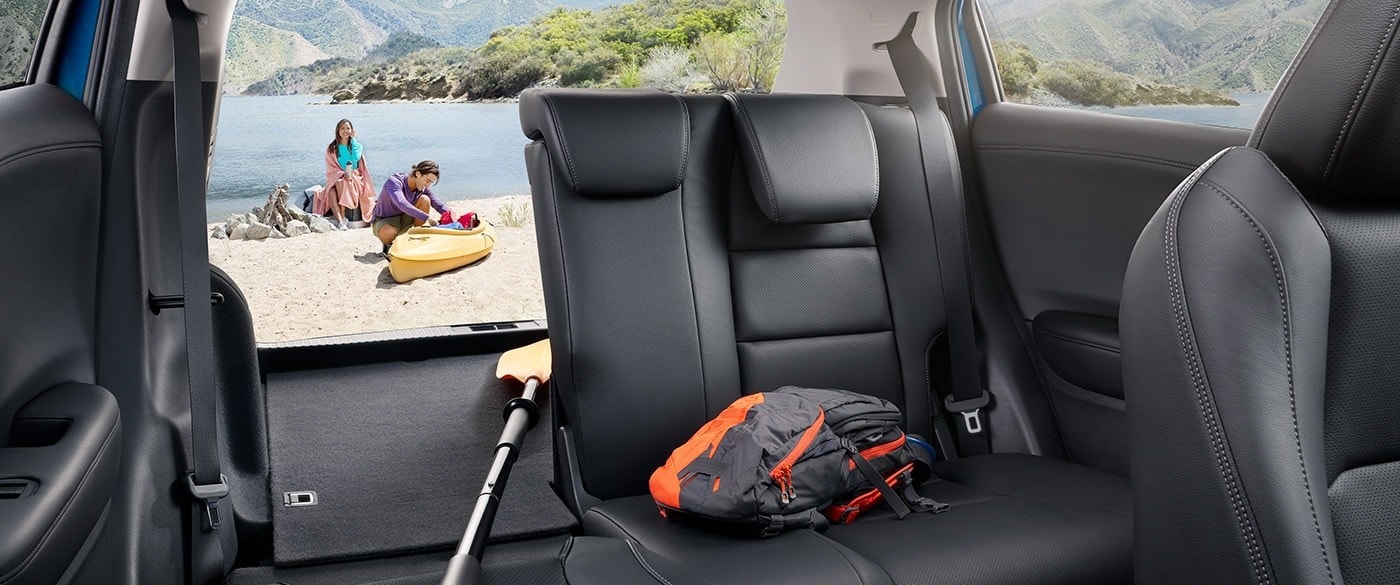 When camping, you'll probably need to mix things up to accommodate all your gear. Thanks to HR-V's split rear-row, you can combine Modes to ensure nothing gets left behind.
If you're car camping sans tent, you might swipe left on the HR-V. That would be a mistake. In Utility Mode, you have a substantial amount of room to spread out and get some shuteye. Is it the best SUV to sleep in? Surely you'll get a better night's sleep at home or even in a much larger vehicle – for instance, try the Honda Ridgeline with a bed tent – but the HR-V performs adequately as a makeshift mattress.
Priced to Perfection
Space isn't the final frontier when it comes to choosing the best SUV to camp and sleep in. Like buying a home, you've also got to consider price per foot when deciding on a vehicle. Honda HR-V comes in swinging, offering one of the best overall values in the segment.
The HR-V lineup kicks off with the entry LX trim, priced starting at $21,870, which equates to $372/cubic foot of cargo volume. That demolishes every rival in the space.
| | |
| --- | --- |
| Model | Value (per ft3 cargo volume) |
| 2022 Honda HR-V LX | $372 |
| 2022 Nissan Kicks | $619 |
| 2022 Ford EcoSport | $440 |
| 2022 Toyota C-HR | $652 |
| 2022 Chevrolet Trax | $442 |
| 2022 Chevrolet Trailblazer | $397 |
| 2022 Mazda CX-30 | $498 |
| 2022 Hyundai Venue | $596 |
| 2022 Hyundai Kona | $465 |
| 2022 Subaru Crosstrek | $419 |
It may not have a missile defense system, but the HR-V makes up for it by providing small families with an unbeatable value, top to bottom, front to back. It's priced well, roomy, and gets you from driveway to campfire without fuss. What more could you ask for in a small SUV for camping?
Browse Our Honda HR-V Inventory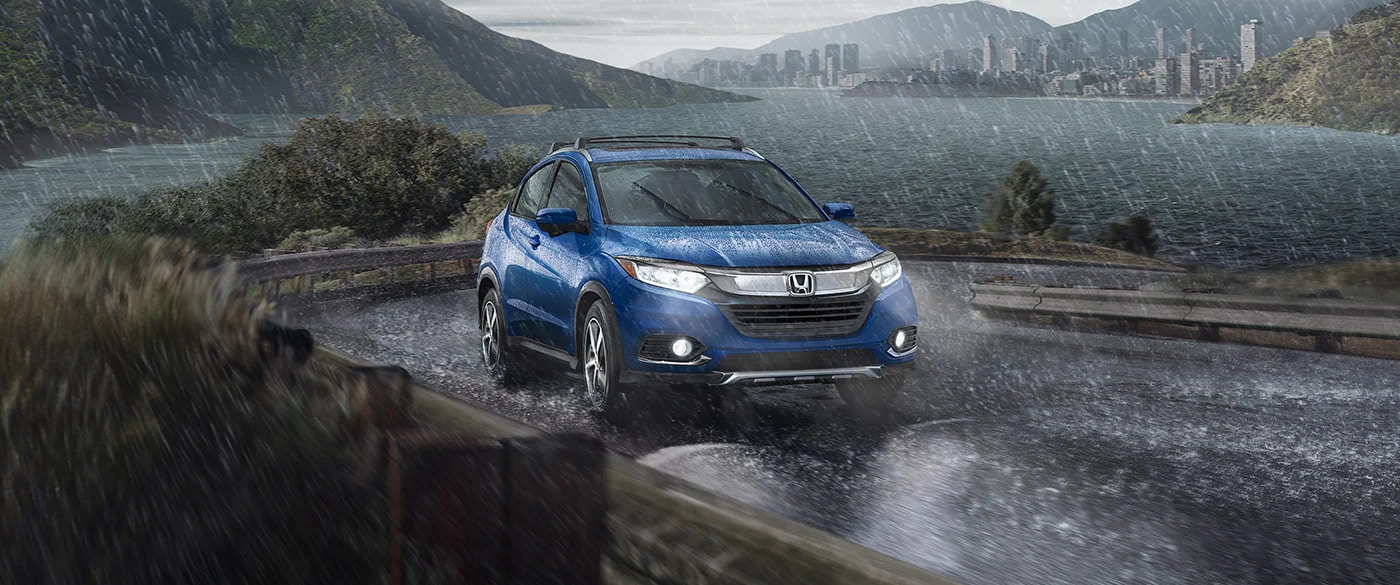 Whether you're looking to go car camping or overlanding, just pop a cargo liner in the back and an HR-V bike mount on the roof – our Missouri Honda dealership can order and install these for you – and you'll be set with one of the best SUVs to camp in. Now comes the big question: Where to?
Contact Roper Honda at (417) 625-0800 to request a quote on a new or used HR-V in Joplin. We'd also be happy to help you reserve a 2023 HR-V, which is slated to be available for sale and lease this summer.