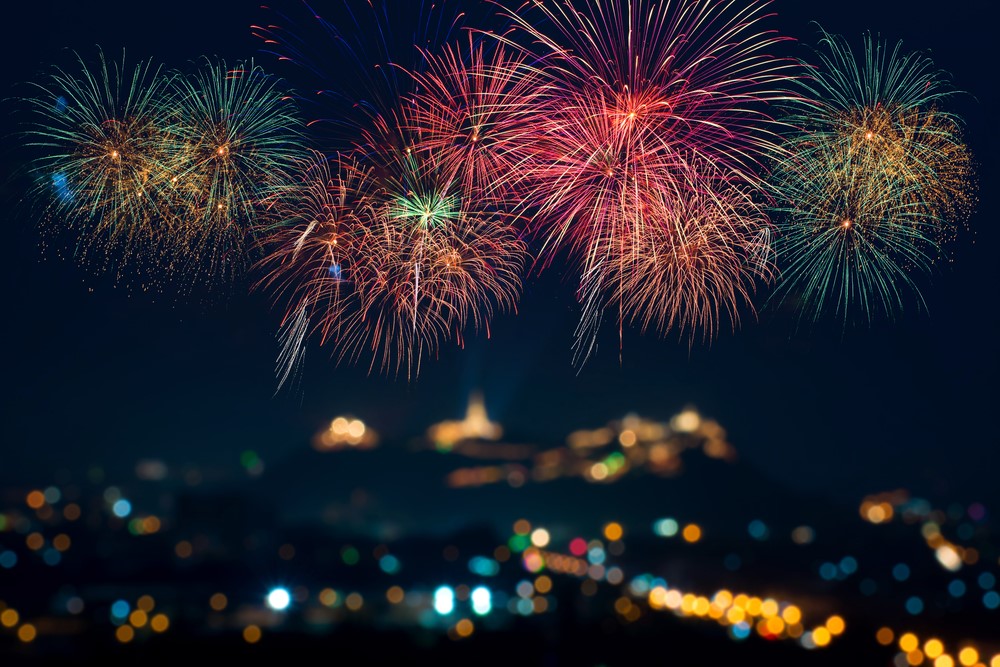 Whew. What a year
that
was, huh? Now that everything appears to be returning to normal – or as close to normal as it can get during a pandemic – it's time to enjoy our first big summer holiday: Fourth of July! (Can you tell that we're excited?)
Yet even with this new sense of normalcy, some of the area's best Independence Day events
from 2020
are off the books this year. (But some are still going strong.) Here's where you can see July 4
th
fireworks around Pittsburg, KS in 2021.
Joplin Independence Day Celebration
If you're looking for fireworks in Joplin proper, be at (or near) the Missouri Southern State University campus around 9:45 PM. That's when the city will launch their annual July 4th fireworks show in Joplin. Be sure to tune in to 88.7FM for a fully synchronized experience.
Worried about mingling with a bunch of other people? No problem. You can watch the Joplin fireworks display from inside your vehicle within the MSSU parking lot. Social distancing is enforced here, so you can simply pop open your Honda Pilot liftgate, take a seat, and enjoy the sights this Independence Day.
Click
here
for more information.
4th of July Celebration at Chatters
On July 3, 2021, the area's much-loved Chatters restaurant is putting on its own July Fourth fireworks display in Pittsburg, KS. Dine-in (or outside) and stick around for an evening of fun.
Click here for additional information.
Pittsburg July 4th Celebration
The official Pittsburg July 4
th
event is back on this year, with two days of activities scheduled.
On July 3, Kiddieland opens (yay for parents who need a break!), vendors start selling, and a special Baby Contest will go on. What that entails, we don't know; but it should be pretty cute.
On July 4, the magic kicks up a notch. The morning starts with a BYOP (Bring Your Own Pole) fishing derby, the Rollin' Nostalgia Car Show, a bike ride, RC airplane shows, Zumbathon, a dog show, bocce ball, and more live entertainment and activities.
Everything culminates with a Pittsburg fireworks display that's sure to blow the lid off Lincoln Park (the park, not the band).
Click here for additional information.
Seneca's 4th of July Celebration
July 2 and 3 will be reserved for Seneca's "Party in the Park" celebration. A car cruise-in, 5k run, and parade are all on the docket, as is a pie auction brought to you by the local fire department. Once the sun goes down, the lights turn on thanks to Seneca's largest July 4
th
fireworks display. It'll be a doozy.
Click here for additional information.
Red, White and Boom in Carthage, MO
Enjoy a 3-person golf scramble in the wee hours of July 4. Once the last double bogey is recorded, the Carthage Golf Course closes in preparation for their evening Independence Day fireworks display. Go grab a bite to eat, get some snacks, and come back to see the fireworks go off over the manicured fairways of one of Carthage's oldest courses.
Click here for additional information.
Ruckers Music & Mayhem
Hit up Neosho's fan-favorite dive bar, Ruckers Music & Mayhem, in Jane, MO, for a July 4
th
event full of live music and a fireworks display. The local band Pinetop Renegades will be playing tunes all night, before and after the Independence Day light show.
Click here for additional information.
4th of July Extravaganza in Miami, OK
Venture down to Buffalo Run Casino and Resort for their annual July 4
th
event. You'll get to enjoy live music and entertainment, a petting zoo, water slides, and the largest fireworks show in Miami. Don't miss it.
Click here for additional information.
July 4th Fireworks Spectacular in Rogers, AR
If you've got $10 to spend and want to enjoy an Independence Day like no other, try the Arkansas Music Pavillion on July 4. You'll celebrate the holiday with a live concern, fun things to do, and holiday fireworks that will light up the sky.
Click here for additional information.
"The Great American" Open Cruise In
Of course, if your inner kid is too tired to care about fireworks, you can always ditch the light show and check out Joplin's "The Great American" Open Cruise In at Doc's Stop. Celebrating its 5th anniversary, this annual 4th of July event allows you to spend time with classic cars and trucks, motorcycles, "rat rods" and more. Sounds right up our alley.
Click here for additional information.
Got another local July 4th event, fireworks show, or activity near Joplin? Let 'er rip in the comments, or contact our Joplin Honda dealership directly, and we'll update this list. Otherwise, enjoy the sights, sounds and tastes of a truly celebratory Independence Day in 2021!
About Roper Honda
Located at 902 N Rangeline Rd, we're recognized as one of the best car dealers in Joplin. We offer great prices on new and used vehicles, excellent auto financing options, and superb customer service. We're proud to serve our customers, day in and day out.
Visit our car dealership near Pittsburg this 4th of July, and enjoy some deals on new Honda models, pre-owned cars, and more.
Happy Independence Day!