Looking for a sporty crossover? There are lots of choices in the midsize SUV class these days, especially for families and outdoor adventurers. As two of the top-selling SUVs, the all-new 2019 Honda Passport and Jeep Grand Cherokee should absolutely be on your "to test drive" list. Both SUVs are solid choices, capable of putting you on the fast track toward adventure, but the new Passport outpaces the Grand Cherokee in several key areas. Here's how they compare.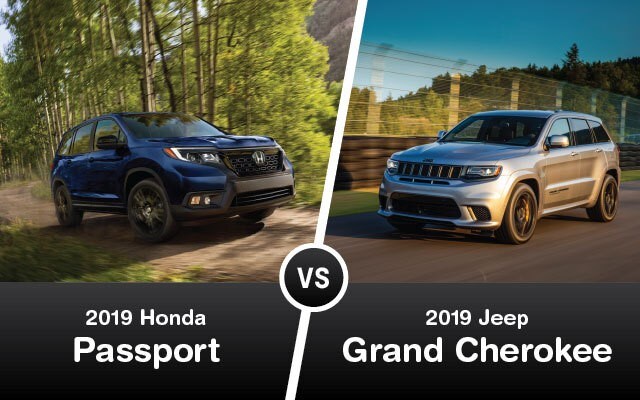 Passenger Volume & Cargo Space
Whether you are an on-the-go family or taking an outdoor adventure with friends, you want a rugged SUV that can fit everything you need, from soccer equipment to tents. This is one area where the new 2019 Honda Passport outshines the Grand Cherokee.
For one, the new Passport offers more passenger volume (115.9 cu. ft.) than the Jeep Grand Cherokee (just 105.4 cu. ft.). Better yet, the Passport has more room for heads, hips, shoulders, and legs – and that's across both front and rear rows. Kelley Blue Book calls the interior of the Passport "both creative and plentiful," and we certainly agree.
Cargo capacity is another big win for the Passport. With more than 100.7 cubic feet of space to the front row, the 2019 Honda Passport gives you a whole lot more storage options than the Grand Cherokee's 68.3-cubic-foot cargo area. Even behind the second row, the Passport's 50.5-cubic-foot offering is far superior to that of the Grand Cherokee's (36.3 cu. ft.).
When looking at SUVs, you don't always expect them to be economical on fuel. However, the Honda Passport is changing that perception by returning up to 20 miles per gallon in the city and 25 miles per gallon on the highway. The Jeep Grand Cherokee is close, but only returns 19 mpg in the city. Every bit of savings counts!
The 2019 Honda Passport allows you to keep everyone comfortable by providing tri-zone climate control and heated and cooled front and rear seats. Jeep Grand Cherokees don't allow for as many zones of climate control or the availability to heated and cooled rear seats.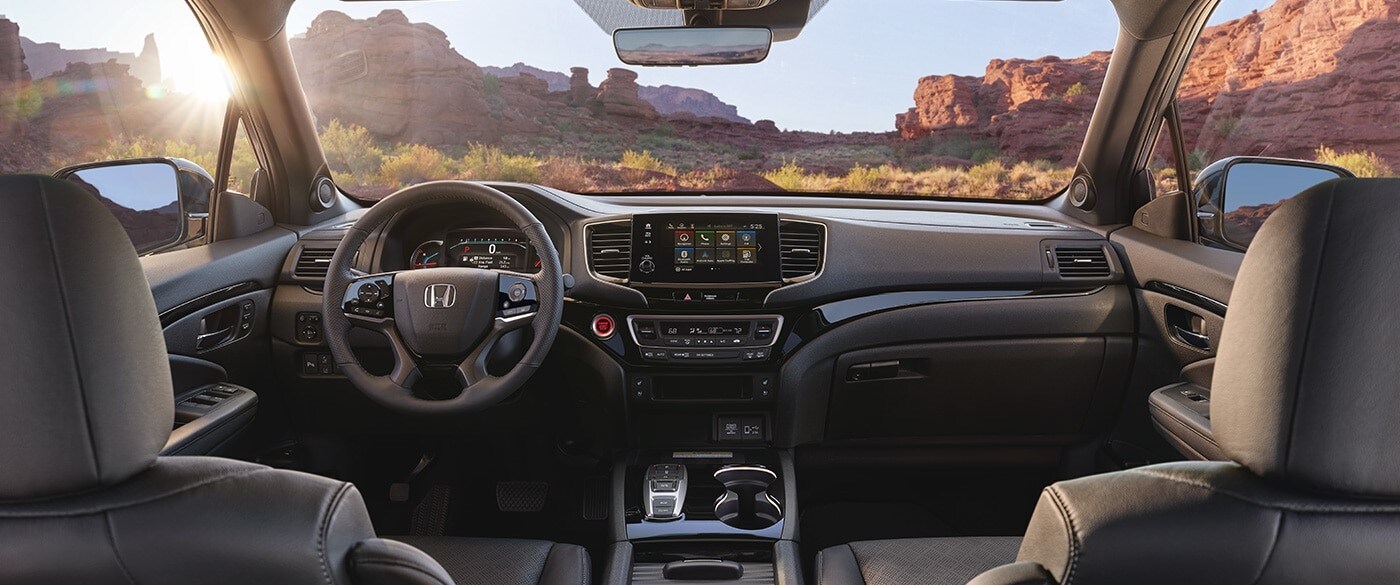 With the overabundance of smart devices these days, it is important to seamlessly integrate them into all aspects of your life. The Honda Passport allows you to do that while also keeping you safe and sound on the road.
The 2019 Honda Passport comes standard with Apple CarPlay and Android Auto Integration to give you hands-free access to your music, phone calls, and navigation. Also included in the Passport is a ton of available accessories, such as a built-in wireless charging tray. Your second-row passengers even have the ability to charge their devices with two available USB ports or a standard electrical outlet.
While the Jeep Grand Cherokee does support a variety of Apple and Android devices, it doesn't offer the comfort and convenience of multiple charging ports and wireless charging capabilities.
One of the most powerful features of the 2019 Honda Passport is its available Honda Sensing technology. Honda Sensing includes a Road Departure Mitigation System, Lane Keeping Assist System, Adaptive Cruise Control, and Collision Mitigation Braking System. These safety systems help keep you centered on the road, maintain your following distance, and apply extra stopping power if it detects an unavoidable frontal collision.
While the Jeep Grand Cherokee does offer some valuable safety features, they don't hit the mark as well as Honda Sensing Technology. Brian Wong of Cars.com noted, "The advanced safety features that come with Honda Sensing…aren't offered on the Grand Cherokee until its price tag reaches $49,985."
The Honda Passport also offers a multi-angle rearview camera that allows you to choose from three different views to help you make the best decisions when backing up. Plus, its Advanced Compatibility Engineering (ACE) body structure allows for extra protection?for driver and passenger alike. Off-road SUVs don't come any safer than the newest Honda Passport.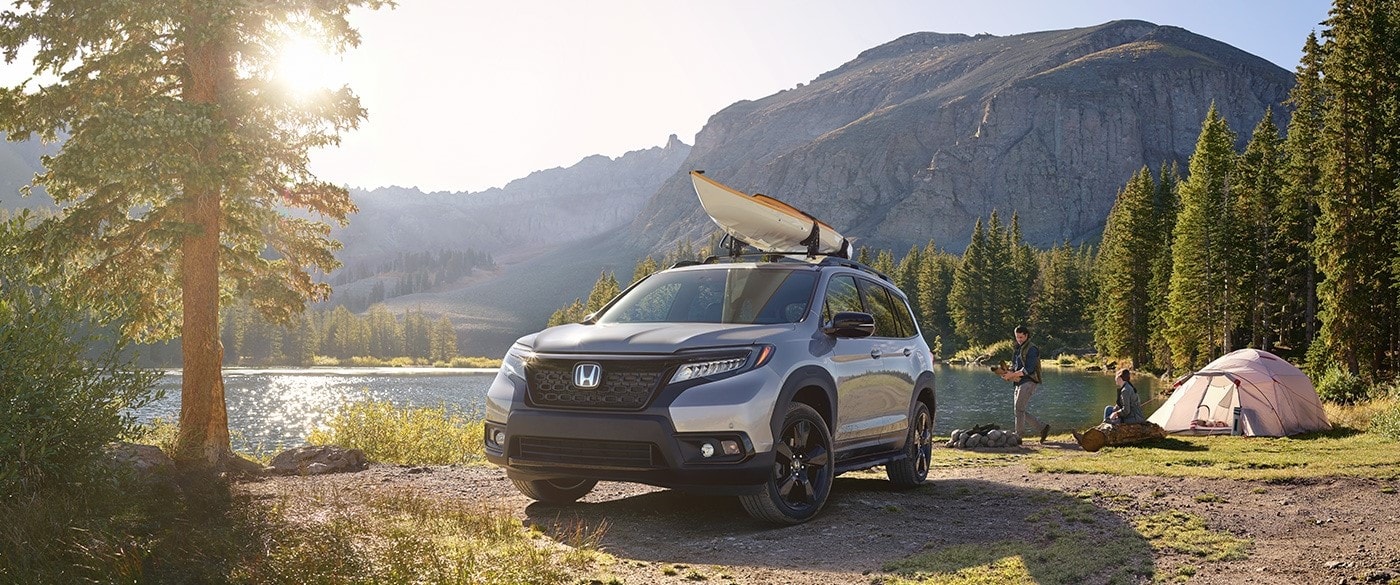 Shop Honda Passport SUVs in Joplin, MO
Making the decision to purchase a new SUV is tough; deciding which new SUV to choose is even tougher. When considering a midsize crossover that's built for asphalt, off-roading, and everything in between, the Honda Passport becomes an obvious frontrunner. Honda vehicles also hold their value better than most cars on the road today, and you'll find the Passport sports a 13% residual value difference over the Jeep Grand Cherokee after 60 months.
https://www.jeep.com/grand-cherokee/safety-security.html
https://automobiles.honda.com/passport/
https://cars.usnews.com/cars-trucks/compare?trims=14057-404875_13923-400105
https://www.cars.com/research/honda-passport-2019/
https://www.kbb.com/car-news/2019-honda-passport-first-review-/2100006390/