Although Fido likes to coat your car in slobber, is it safe for him to stick his head out the car window? How about seat belts – do dog harnesses really help protect your pet? And what's the harm of letting your pup sit in your lap as you drive? You're just going to the bank….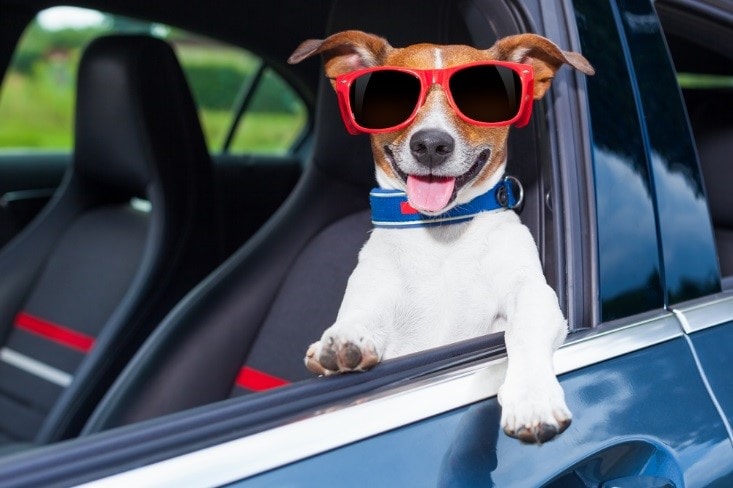 America is most certainly a canine country. Sixty million homes own pups, and tens of millions of pet owners drive with their dogs each day. Unfortunately, just 1 in 10 of those dogs are being properly restrained and kept safe on the road. So, no matter how great of a pet-parent you are, when you're traveling with your dog, there's a good chance that you're making a mistake (or two) that could put his life in jeopardy.
Here are some driving tips and car accessories to ensure your fuzzy pal is part of that lucky 10%.
Close the Windows
Ever watch a rogue pebble chip your windshield? Think of the damage that nearly weightless rock would do to your dog's eye. So, unless Fido has a built-in windshield, you should keep the windows closed when driving.
And even if he did have some sort of magical forcefield protecting his cute face from debris, what's stopping all those bad drivers from t-boning your car? An open window invites far too many depressing scenarios – your dog could get ejected from the vehicle, for one – into this pet owner's house of imagination.
Dogs in the Back, Humans in the Front
Your college roommate can call shotgun. Your dog cannot. Don't let him sit in the front seat of your CR-V (your dog, not your roommate).
A dog in the front seat, no matter how well-mannered and polite he is, is a recipe for disaster. It's one of the most dangerous places for canines to sit when the car is in motion. In the event of a crash that deploys the airbags, your dog will be at risk of sustaining serious or even life-ending injuries.
Now, if you've ever been in a bad car accident, you know how painful it is when those puffed-up bags meet your face. Airbags are scary. Black eyes, broken jaws, busted noses: these are all common injuries caused when airbags deploy – common to humans, that is. Frontal airbags aren't designed to save the lives of dogs because dogs aren't meant to be in the front seat. The same logic applies to dogs sitting in your lap.
If your dog simply won't sit back there, consider ordering a car accessory to keep them in their place. Something like a dog barrier works well, though you'll probably want earplugs to reduce the decibel level of your dog's whining.
Buckle Up
With the exception of texting, there's perhaps no bigger driving distraction than an unrestrained dog roaming freely like they own the joint. They can jump in your line of sight, stand in your blind spot, put your vehicle in the wrong gear, and any number of crazy things.
This is where a good dog harness comes into play. As you conduct research, be sure you're looking at products that have been tested and proven to protect animals. Cheap dog harnesses aren't always great options.
In several states, laws have been put in place to reduce the number of drivers with unrestrained dogs. For instance, troopers in the Northeast may fine pet owners up to $1,000. Driving with an unsecured pet may not break any laws in Missouri, but it should. (You hear that, Missouri lawmakers?)
Remove Rawhide & Choking Hazards
Dogs love rawhide bones; but did you know that they're dangerous choking hazards?
As you start your journey, take away the dog bones, sharp toys, and any other potentially dangerous items from the back seat. This includes items from your rear pockets, under the seat, and in the cargo area. (Dogs are sly devils – they'll find and destroy anything they can sink their canines into.)
Say "No" to Truck Beds
You know what they say: A dog in the truck bed makes the world go 'round.
Of course, that's not a real saying; truck beds are meant for truck-bed things, like boxes and dumpster-dived mattresses, not dogs. More than 100,000 canines die each year from riding unsecured in the back of pickups, which is simply an astonishing number.
If you must drive with a pet in the back of your Honda Ridgeline, you should be sure to secure them, via bed tie-downs or anchors, in a kennel or harness system.
Drive a Safe Vehicle
The safer the vehicle, the safer the occupants. (Now that's a real saying, right?)
A cheap, old car without any safety features may be friendly to your wallet, but if you value your pet, you'll make an upgrade to a newer model. These days, late-model used cars, including certified pre-owned Hondas, are excellent yet affordable vehicles that offer advanced safety systems like lane-keep assist, collision-mitigation braking, and adaptive cruise control. They may not stop your dog from getting up in your grill, but it'll help reduce the risk of injury if another driver crashes into your car's grille.
Need a suggestion for a quality, dog-friendly SUV? Try the Honda CR-V. With amazing IIHS crash-test scores and the Honda Sensing suite of safety features, it's one of the top-rated crossovers in its class – and it looks pretty rad, too.
Come take the new CR-V for a test drive! Visit Roper Honda (that's us) at 902 N Rangeline Rd in Joplin, MO, to speak with our Honda sales team and learn more about our current Honda specials and incentives. Call our Joplin Honda dealership at (417) 625-0800 to schedule an appointment today. Oh, and bring that little family member with you – the fuzzier, the better!
Sources & Photos:
iii.org/fact-statistic/facts-statistics-pet-statistics
wired.com/story/the-insane-physics-of-airbags/
ktvo.com/news/local/is-your-pet-legal-in-the-front-seat
nymag.com/strategist/2019/04/best-dog-harnesses.html
americanhumane.org/app/uploads/2016/08/aha-compassion-brochure-2013.pdf
pets.webmd.com/dogs/rawhide-good-or-bad-for-your-dog
chewy.com/b/barriers-2411
news.orvis.com/dogs/does-your-state-require-dogs-be-harnessed-in-the-car
iihs.org/ratings/vehicle/honda/cr-v-4-door-suv/2019