Proud parents, grandparents and other relatives spent $5.2 billion on graduation gifts last year, according to the National Retail Federation. With this year's graduation season fast approaching, many parents are looking for the perfect vehicle as a generous and useful gift for their kids.
But the road to car shopping for a teen can have some somewhat dangerous pitfalls. Here are the 5 biggest mistakes moms and dads make when they're buying a car for a teenager, whether as a graduation gift or as a means to drive themselves to all those afterschool sports practices and activities. (You can't always chauffeur them around, right?)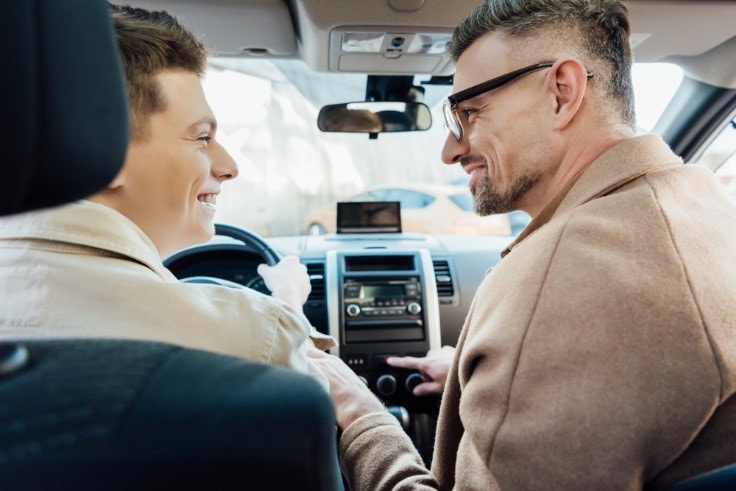 Mistake #1: Going for maximum horsepower
Your teen simply doesn't need a lot of speed in their first vehicle. In fact, speeding contributes to one in every three accidents -- so if your young driver isn't tempted to rev a V8, he or she is less likely to break the speed limit, thus reducing their chance of a crash.
Instead of a new muscle car or powerful pickup, look for a mid-sized sedan like a Honda Accord or a small SUV like a Honda CR-V with a four-cylinder engine and plenty of safety features. Six cylinders may allow for too much power -- read: speed -- and it won't be as economical when it comes to filling the gas tank. The smart parent buys their teen a smart vehicle, period.
Mistake #2: Choosing cheap over reliable
Of course, you may not want to spend big bucks on a new car for a teenager. But you also don't want your teen to break down in the middle of nowhere. So, what's a parent to do?
The answer is: buy them a reliable used car that's less than 10 years old, such as a certified pre-owned Honda that's been checked carefully by Honda mechanics for any issues. For instance – and for your peace of mind -- the pre-owned cars at Roper Honda may come with a Warranty Forever Customer Guarantee that covers engine, transmission and both front- and rear-wheel drive issues that may come up. Trust us and our used vehicles to keep your teen safe and sound.
Mistake #3: Neglecting the airbags (and other safety features)
Safety features are a must in any teen's car; teen drivers are involved in three times as many fatal crashes as more experienced drivers. Protect your child from a becoming an unfortunate statistic, and choose a vehicle with at least six airbags (two in front, as well as side impact and side curtain placements). These protect the driver's and front passenger's heads and chests in an accident.
You'll also want to think about these other important car safety features:
Electronic stability control (ESC) that automatically brakes if the car starts skidding, to help the driver regain control
Rear vision cameras
Automatic braking
Blind spot threat detection
Lane-maintenance alerts
For more safety features, check the models you're considering through IIHS and the National Highway Traffic Safety Administration's (NHTSA) websites. Don't consider a vehicle with fewer than four stars or "Poor" grades.
Mistake #4: Overlooking teen-specific technologies
Car manufacturers are starting to offer standard advanced driver-assistance technology that can be customized for use by your teen driver. Examples include smart key fobs and features to limit speed and block use of smartphones and other distractions.
If these features aren't available on the used vehicles you're considering, talk to your insurance company. Many larger firms are making in-vehicle monitoring and feedback apps and devices available for free to families with teen drivers.
But whether or not you use monitoring devices in your teen's vehicle, it's important to tie driving privileges to good driving habits. Talk to your new driver about avoiding distracted driving -- in fact, consider making a rule that the phone must be in the center console or glove compartment and out of reach when the ignition is turned on. Discuss what will happen if your kid deviates from the rules you set or if they get any tickets or accidents.
Mistake #5: Failing to check with your insurer
Your insurance agent can help you discover a whole slew of resources for new drivers, including which models are both cheapest to insure and safest for teens. Choosing the make and model of your child's first car with an eye on which vehicles will be least expensive to insure can help you save money. Plus, you'll know what additional costs to expect when you add another car and driver to your auto insurance policy.
Got a College Graduate? Shop Roper Honda for Extra Savings
What if you're buying a car for your college graduate? Don't forget about the Honda Graduate program, which provides up to $500 in bonus cash to new grads with an Associate's, Bachelor's or Master's degree. For more details about the Roper Honda Graduate Program, or to learn about any of our safe vehicles for sale, contact us at (417) 625-0800.
Visit Roper Honda at 902 N Rangeline Rd in Joplin, MO, to test drive any of our used vehicles or new Honda models. We'd be happy to help you choose your teen's first used car or new SUV.
Sources:
https://www.nhtsa.gov/road-safety/teen-driving
http://drivesmartgeorgia.com/blog/car-buying-tips-for-teen-drivers/
https://www.familycircle.com/teen/driving/tips-for-buying-your-teens-first-car/
https://www.esurance.com/info/car/buying-car-insurance-for-teenagers
https://www.trustedchoice.com/insurance-articles/wheels-wings-motors/picking-teen-driver-car/
https://nrf.com/media-center/press-releases/graduation-spending-reach-52-billion-cash-and-greeting-cards-most
https://www.iihs.org/iihs/ratings/TSP-List
https://www.nhtsa.gov/ratings
https://www.hondafinancialservices.com/finance/college-grad-program