Honda SUVs are well known for providing excellent cargo space - anywhere from 75 to 150 cubic feet of it, in fact, depending upon the model and trim. Thanks to Honda's power liftgate, loading and unloading cargo gets a whole lot easier as well. Available on new 2020 CR-V, Pilot, and Passport models, as well as the Odyssey minivan, the power tailgate provides convenience and flexibility. If you are trying to decide on a model with a power tailgate, here's what you need to know.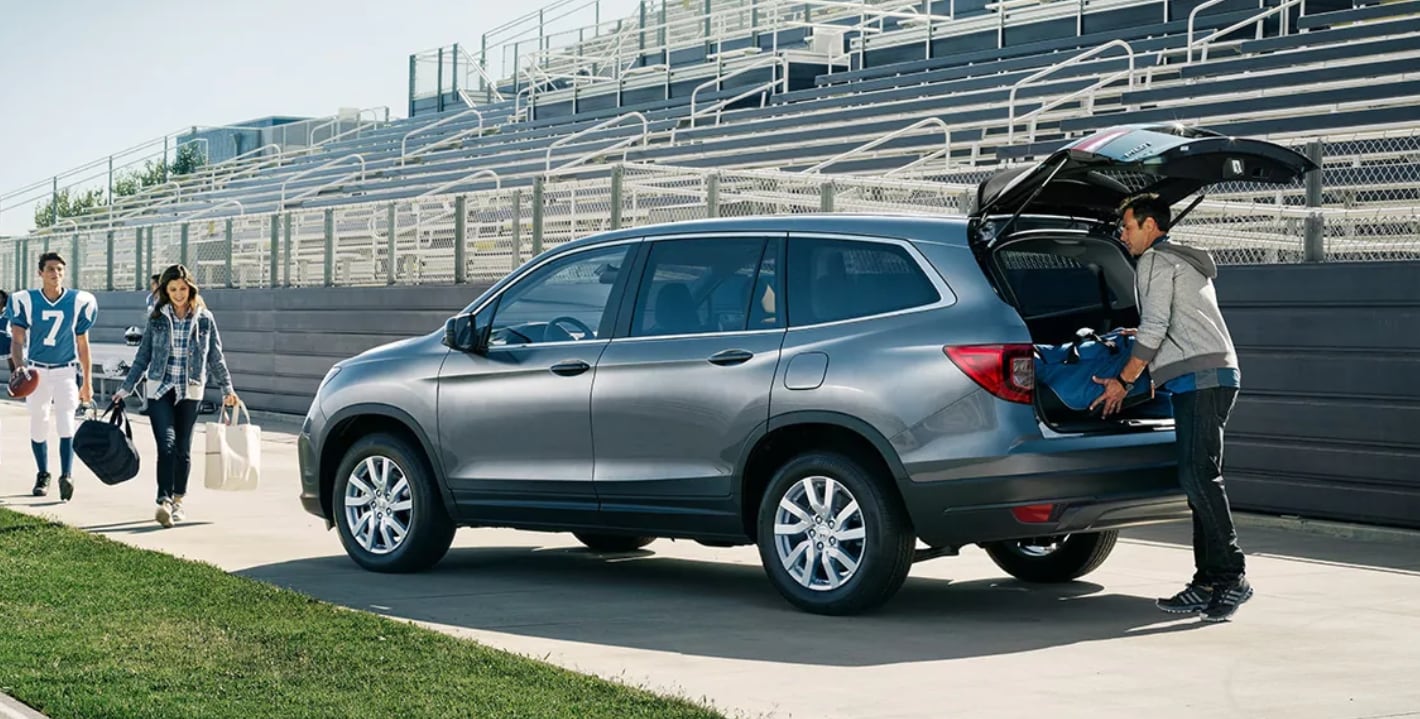 How it Works
Use your Honda's smart-entry remote to unlock your tailgate. After that, you can simply press the tailgate button on your remote to open your tailgate. Leave the lifting to your vehicle, and then touch the button again when you are ready to close your liftgate.
Some Honda models will allow you to access the power tailgate completely hands-free. In that case, all you will need to do is make a kicking motion underneath the rear bumper while holding the remote (or having it on your person – in your pocket or purse will do). Doing so will activate a sensor that will then cause the power liftgate to open.
Built-in Features
Honda's power tailgate comes with some built-in features that will allow you to customize the opening and closing of your tailgate. For example, you can partially open your liftgate by pressing and holding the button when it reaches the desired height. This is ideal whenever you are in a tight spot and want to keep the tailgate from getting bumped or scratched.
You may also program your tailgate so that it opens at a predetermined height each time. With the liftgate at the desired height, press and hold the manual close button until you hear two beeps. This feature can be used if you regularly park inside a garage or other area that has a low clearance.
Honda Power Tailgate Benefits
The power liftgate's biggest benefit is the ability to load items without having to set them down first. This is a major advantage during inclement weather, as it allows you to get out of the rain or snow much faster. There is also no need to fumble with keys when you are traveling alone at night.
Shorter drivers or seniors with a limited range of motion who have a hard time reaching the open liftgate can often benefit most from a power tailgate. Now these drivers won't have to struggle or ask for help and can instead operate the liftgate with the touch of a button (or movement of a foot).
The power tailgate is easy to operate with the included smart remote. However, Honda does provide a manual option as well. To open, press the button on your remote and then activate the release button just above the tailgate. When you are ready to close, you can use the button located on the tailgate itself or select the one found just to the left of your steering column.
What Honda Models Have a Power Tailgate?
The Honda power liftgate is available on select 2020 CR-V, Pilot, Passport, and Odyssey vehicles. On the CR-V, the power tailgate is standard on the EX-L with hands-free available on the Touring. The Pilot, Passport, and Odyssey come with a power liftgate in EX-L trim and add hands-free access in Touring and Elite trims. Some older Honda models may also be equipped with a power tailgate or be capable of having one added.
Visit our Joplin, MO Showroom
Are you ready to learn more about the benefits of Honda's power tailgate? If so, then drop by our Honda dealership in Joplin to see the latest Honda vehicles and try out the power tailgate feature for yourself. Please contact us today to schedule your test drive.