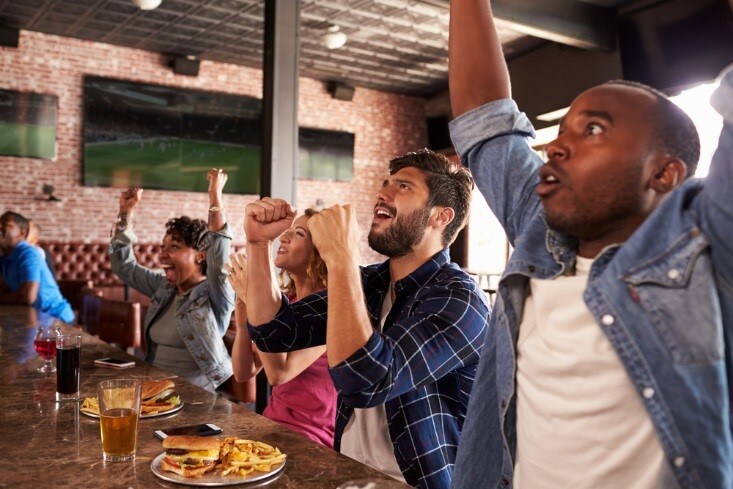 March Madness is upon us, and it's time to start making excuses plans for your extended lunch breaks at work. Whether you want to head to a sports bar with your coworkers or take the family out for pizza, there are several nearby hangouts with large TVs to keep you from missing any of the action. Here are our 3 favorite places to watch March Madness in the Joplin area:
Gusano's Chicago-Style Pizzeria
If pizza and basketball in a family-friendly environment is your idea of a good time, check out Gusano's Pizza during March Madness.
Located 3929 E 7th St. E, near Northpark Mall in East Joplin, the only Missouri location of this pizza chain features several large TVs, a variety of video games for all ages, a weekday lunch buffet, and a children's menu. Gusano's also has a large outdoor patio that is perfect for a variety of large group events.
It's a great place for lunchtime March Madness, too, as they're open daily starting at 11:00 AM.

Harbell's Grill and Sports Bar
As the "Home of Springfield's Best Smoked Chicken Wings" and twelve 40"-80" TVs, Harbell's is a great place for wing fans to enjoy March Madness.
Residing in a century-old historic building that creates a unique basketball-viewing atmosphere, the sports bar features Taco Tuesday, Wing Wednesday, and a variety of daily drink specials. Harbell's is located at 315 Park Central W, and it is open until 1 am on Friday and Saturday night, and 11 pm during the week.

The Pitt
The Pitt, located in Pittsburg, KS, is a nearby bar that often offers specials during and around important local games. From celebrating the Chiefs' Super Bowl win with 25-cent boneless wings to being the place to cheer on the Tigers during March Madness, The Pitt is a favorite among sports fans from Joplin and surrounding areas.
They're open from 5 pm-12 am daily, so save your March Madness madness for nighttime.

Tips for Winning Your March Madness Bracket
Once you've decided where to watch your favorite games, it's time to start creating your bracket. Although you probably won't pick a perfect bracket (the odds are one in 9.2 quintillion), part of the fun of March Madness is beating your friends, family members and coworkers. A few strategic decisions are all it takes to keep you alive going into the Final Four and give you bragging rights.
Rather than simply comparing two teams on their W-L record, look closely at recent scores and winning streaks. Recent scores are a more accurate predictor of success than ones from the beginning of the season, and a team with solid winning streaks toward the end of the season has a better chance of surviving six games than the one with a slightly better overall record.
Don't be afraid to pick a couple of upsets early in the tournament. They happen nearly every year, and they can be a great way to get an edge over competitors that only choose expected results. The #16 and #15 seeds don't win regularly, but #10 and #12 seeds often get a win each year.
Although no March Madness games are played with a true home advantage, even neutral games typically land closer to one of the two matchup's teams, which can give that school a slight advantage.
---
Heck, if you can't nail your March Madness bracket, at least you're a winner at our Joplin Honda dealership! Visit us this March for special car deals on new Honda vehicles, used cars and even auto parts. Contact Roper Honda at (417) 625-0800 for details about our Honda lease offers or to schedule a test drive. Our car dealership serves Joplin, Springfield and Neosho, MO, as well as Miami, OK, and Rogers, AR.