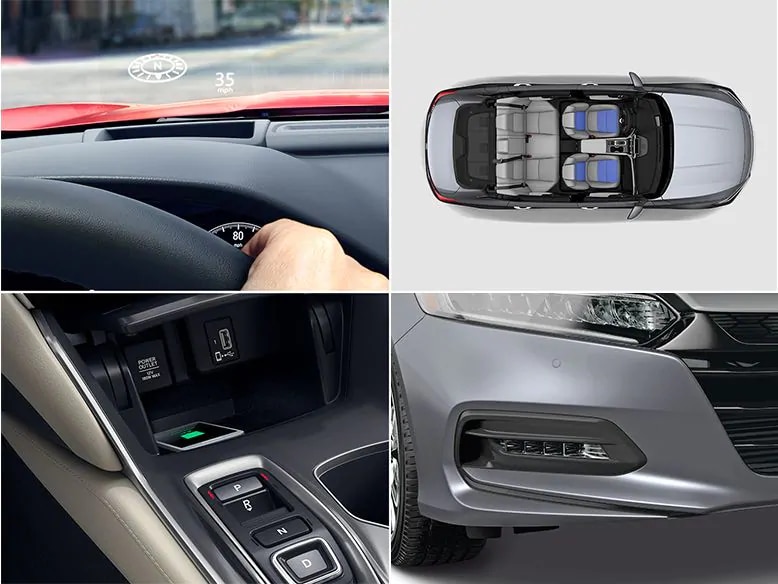 We'll get to how we'd spend our winnings on a new Honda in a second, but first, there's important business to attend to. If you're one of the two lottery winners in Joplin or Oronogo who hasn't claimed their $1 million prize, head to www.molottery.com to become Missouri's newest millionaire. Now, onto your regularly scheduled programming.
If you haven't heard, Jasper County made headlines recently after two locals each won $1 million playing the Missouri Lottery. First, a mysterious player at Joplin's Snak-Atak won the Powerball drawing on October 10. Then, on October 23, another Mega Millions player purchased a winning ticket at the Fast 4 U in Oronogo, MO. Some people have all the luck.
Unfortunately, both prizes have been left unclaimed, which leads us to believe that aliens are responsible. Either way, we thought it'd be fun to make a shopping list of all the cool car gadgets, accessories, and Honda gear we'd buy with a million buckaroos. Let's play!


New Honda
First things first: We'd go wild buying a new 2019 Honda. We're talking decked-out, range-topping, packed-to-the-brim Honda. And what better place to start than the North American Car of the Year, the Honda Accord. The Accord Touring Hybrid, completely equipped with all the optional equipment, is on par with other luxury cars on the road, including the Mercedes C-Class and Lexus ES. It includes ventilated front seats, a head-up display, 10-speed transmission, dual-zone climate, wireless phone charging, heated rear seats, navigation, Wi-Fi, and the full suite of Honda Sensing features.
Price: $35,000
EV Charging Station
If we do choose something like the Honda Clarity Plug-In over the Accord Hybrid, we'll want to charge at home rather than find EV stations around Joplin. An at-home EV charger like the eMotorWerks JuiceBox Pro 40 will do the job. It's quick, includes a smartphone app to start, stop, and monitor the charge, and voice controls via Amazon Alexa and Google Home. Durable and water-resistant, it's one of the best EV chargers for the Clarity.
Price: $600
Dashboard Camera (Dash Cam)
Imagine encountering some crash-for-cash insurance scammer without the benefit of footage—no bueno. A good dash cam will prevent those con artists from taking advantage of you. Plus, if you're ever in a crash, hit-and-run, or other road altercation, a dashboard camera is the best way to prove your innocence and keep your insurance premiums down.
The best dash cam is one that keeps you out of trouble and provides next-level peace of mind. So, as we spend our $1 million on car accessories, we'll want to invest in a model that has both front- and rear-facing cameras, HD image quality, night vision, Wi-Fi functionality, and a lot of memory. Dozens of great dash cams are available to purchase, including the Mio miVue 766, which is what we'd opt for.
Price: $150
Leather Driving Gloves
Now that we're rich, we're movin' on up from $20 fleece mittens to bona fide leather driving gloves. Maintained properly, driving gloves can last decades, making it a wise-ish investment. For us, we'll settle for waterproof, Italian Cashmere-lined, HydroPeccary Fort Belvedere leather gloves, with button closures, in a size 9, please.
Price: $300
Portable Coffee Machine
Ditch the drive-thru lines and make your own caffeine fuel with an innovative in-car espresso machine/coffeemaker. The Hanpresso Auto makes 50mL of espresso at just the right temperature, can be plugged into a standard 12V DC outlet, and fits snuggly in a cupholder. In just two minutes, you can go from tired and run-down to rejuvenated and pumped-up! Our shopping list wouldn't be complete without it.
Price: $200
Emergency Escape Tool
How can we spend our $1 million if we're locked in a sinking car? The autoXscape emergency tool and flashlight ensures that's not the case. Made from military-grade aluminum, this multitool includes a seatbelt-cutting blade, spring-loaded window-breaker, flashlight with SOS mode, and a complete mounting kit. It's a must-have.
Price: $50
Car Bike Rack
All the places we'll go and all the places we'll see with our $1 million bucks! To ensure we make the most of our impending travels, we'll purchase a quality bike rack to mount on the back of the Accord. The all-new aluminum Sherpa 2.0 from Kuat is highly rated and should work well. It includes folding tire cradles, a foot-activated pivot lever, cable locks, and a hitch cam system. Plus, a rear bike mount is incredibly simple to install, especially by our Joplin Honda Parts Center installers.
Price: $500
Even with a million dollars, we'll still need want to work. A great portable office and work desk is essential in those on-the-road situations. Something like the AutoExec RoadMaster is a perfect car accessory. It attaches to the passenger seat's belt, offers a large working platform, hidden storage compartments, and even cubbies to store files.
Price: $200
The standard Honda wiper blades will last a while, but with extra cash to spend, we want to really up the ante by replacing those wipers with KIMBLADE water-repellent blades. Self-healing silicone materials ensure it lasts for a really long time, and the direct rectangular blades reduce smudging and excessive squeaking.
Price: $50+
To avoid the shop, we'll do all our own Honda maintenance in Joplin at home with a residential car lift system. QuickJack has several great options, including the lengthy BL5000EXT lift, which is perfect for cars and even light trucks. Oil changes? Tire rotations? Brake pad replacements? The home car lift will make any regular maintenance task a simple DIY project.
Price: $1500
That should do it. What? We've only made a $40,000 dent in our $1 million bankroll? We must be slacking. Leave us a comment if you have any other ideas for either outlandish or inexpensive car accessories to install in our new Honda Accord Hybrid. Otherwise, we might just have to buy every Honda model available to make up the difference. (That sounds pretty good, actually.)
About Roper Honda in Joplin, MO
As one of the best Honda dealerships in Missouri since 1973, Roper Honda understands what shoppers want most in a dealer: Trustworthiness. We are committed to excellence, plain and simple. To get to know our staff and browse our current selection of Honda models for sale, call us at (417) 625-0800 or visit our car dealership at 902 N Rangeline Rd in Joplin, MO. We serve customers throughout the area, including Neosho, MO, and Miami, OK.
Sources & Photos:
https://automobiles.honda.com/accord-sedan
https://www.joplinglobe.com/news/local_news/two-missouri-lottery-winners-have-unclaimed-prizes-of-million-each/article_04a76808-0a3a-50a4-8acc-cf02b3686bb2.html
https://www.techradar.com/news/best-dash-cam
https://www.mio.com/en_gb/mivue-766-wifi
https://www.gentlemansgazette.com/shop/accessories/leather-goods/gloves/brown-blue-peccary-gloves-fort-belvedere
https://www.handpresso.com/en/19-on-board-machines
https://www.reviewgeek.com/2932/the-best-car-desks-for-workers-on-the-go/
https://www.kickstarter.com/projects/1223610543/kimblade-your-average-windshield-wiper-re-invented
https://www.engadget.com/2018/05/04/the-best-ev-charging-stations/
https://emotorwerks.com/store/residential/juicebox-pro-40-smart-40-amp-evse-with-24-foot-cable
https://www.quickjack.com/home-car-lift.html
http://www.kuatracks.com/products/hitch/sherpa-2-0/