Holidays are fast approaching, which means one thing: Christmas lights displays! While some people crave bow-adorned gifts under a tree, we can't get enough of the local holiday decorations. Here are a few of the best Christmas lights to see around Joplin and Carthage. For a view of even more lights displays in other areas around Joplin, click here.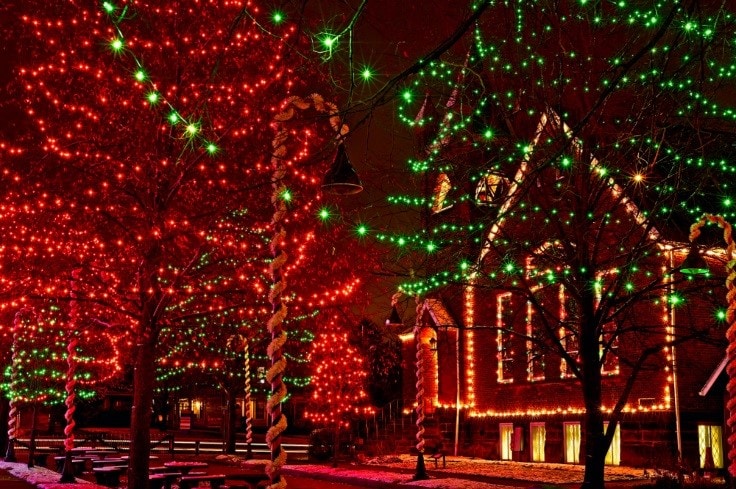 Christmas Lights in Branson, MO
Trail of Lights – Branson's favorite drive-through Christmas light show has been going strong for 29 years, and it's even better in 2018! Millions of holiday decorations, lights, and animated displays can be found throughout all 160-plus acres of Shepherd of the Hills Homestead. The Trail of Lights display will close on December 30, and pricing is just $25 per carload. (In order to get your money's worth, we recommend stuffing your Honda Odyssey to the brim with family and friends!)
Christmas Lights in Broken Arrow, OK
Rhema Christmas Lights Extravaganza – Since 1982, the Christmas light attraction in Broken Arrow has been one of the area's biggest seasonal attractions. From 5:30 to 11:30 PM every day, more than 2 million lights and decorations will be brightening up the Rhema Bible Church campus. Carriage rides will be available on select dates, but the enormous 22-foot Christmas tree will stand tall until all the decorations come down on New Year's Day.
Christmas Lights in Carthage, MO
Mt Moriah Lights – Completely computerized, this Carthage Christmas lights display features over 150,000 lights that are programmed to holiday tunes. Located at Mt Moriah United Methodists Church, the nightly light show will dazzle from 5:30 to 9:30 PM until December 30.

Way of Salvation Drive-Through Light Display – A favorite of many residents, this driving Christmas light show in Carthage is free to the public, though donations are appreciated. Visitors can drive the decorated mile-long stretch of CRM Complex from 7 to 10 PM each night until the displays are taken down on December 30.
Workman Family Christmas Light Display – With over 20,000 Christmas lights and decorations, this Carthage house is one of the finest and largest residential holiday displays in the area. If that weren't enough, all the lights are programmed and synchronized to holiday music, as well!
Christmas Lights in Fairland, OK
Twin Bridges Park of Lights – Each night through December 30, from 6 to 9 PM, one of the best Christmas lighting displays in Fairland will be open to the public. Santa and his better half will also be dropping by the Twin Bridges Park lobby on December 15 and 22, so be sure to bring the kids and their wishlist.
Christmas Lights in Joplin, MO
612 Seville Circle Drive – It takes the homeowners of this Joplin house six weeks to put up their Nativity scene, over 50,000 Christmas lights, and wooden Santa displays (yes, Rudolph and the elves are included). You'll certainly get into the spirit of the season by walking past this glowing winter wonderland.

Helicopter Holiday Light Flights – So, you want to ditch your Honda and see the Joplin Christmas lights from the air? To each their own! For $75 per person, you can take a helicopter tour to view the best Christmas displays in the region from a higher altitude.

Spiva Park Christmas Light Show – The Spiva Tree Lighting Ceremony has already ended, but the Christmas light show runs every hour, from 5:30 to 10:30 PM, until January 1, 2019. The lights are set to holiday music, so bring a thermos of cocoa, kick back, and enjoy the show.
Christmas Lights in Monett, MO
Festival of Lights – The best Christmas light show in Southwest Missouri may be found in Monett. Running through December 31, this local holiday attraction features a million dollars' worth of Christmas lights and festive decorations, with more being added each year. Best of all – it's 100% free to the public!

?
Happy Holidays from Everyone at Roper Honda
In celebration of this holiday season, we're offering extraordinary
Honda deals for Christmas
. Through January 2, 2019, you can
finance select new Honda models
and make
no payments
for up to 90 days! It's all a part of the Happy Honda Days sales event.
Care to learn more? Contact Roper Honda at (417) 625-0800 or visit our
Joplin car dealership at 902 N Rangeline Rd
to speak with a salesperson. And enjoy your holiday!
Sources:
http://www.monett-mo.com/events/festival-of-lights
http://www.mtmoriahlights.com/
http://www.rhemalights.org/
https://theshepherdofthehills.com/trail-of-lights/
https://www.facebook.com/twinbridgesparkpartners2
https://carthagechamber.com/events/details/way-of-salvation-drive-through-light-display1
https://www.facebook.com/Workman-Family-Christmas-Light-Display-262250387261365/
https://www.joplinglobe.com/news/local_news/christmas-always-comes-early-for-joplin-couple/article_f586e3f1-2a7d-5edb-9dc1-42906deaf4cd.html
https://alphaaircenter.com/holiday-light-flights/
https://www.visitjoplinmo.com/events/2018/spiva-park-tree-lighting