You might think that all the fun has been squeezed out of Joplin now that summer is ending. But the fall season is one of the best times of the year in the Ozarks area! With tons of outdoor events, activities, festivals, and shows to entertain the masses, you're certain to find something to do before winter strikes in 2017. So, don't let your fall simmer when you can get to a full boil! Check out these fantastic autumn events near Joplin and Carthage, MO.


Photo: carthagemapleleaf.com
51st Annual Maple Leaf Festival
Location: Various Places in Carthage, MO
Date & Time: Entire Month of October
More Details: www.carthagemapleleaf.com
Carthage is loaded to the brim with October activities. The most noteworthy activities throughout its October run include:
· "Unleashed: Dog Show" Exhibition (Weekends) – Free for everyone, this "dog show" is actually an art exhibit that is set to showcase Michael Steddum's oil paintings.

· 3rd Annual Lobster Boil (Oct. 7th, 4:30 to 8 pm) - Fresh Maine lobsters, succulent and butter-soaked, should entice just about everyone with taste buds. At this year's Lobster Boil, you'll not only get your fair share of lobster tails, but you'll also get to nibble on Alaskan Crab, Gulf Shrimp, prawns, and flank steak—all on the lawn of the Historic Phelps House. Bibs are likely included with your $60 admission, but bring your own for good measure.

· Latino Festival (Oct. 14th) – Another free event, the Latino Festival mixes family fun with cultural traditions. Enjoy authentic cuisine, drinks, entertainment, and arts and crafts on Saturday, October 14th.

· Kelly-Miller Brothers Circus (Oct. 17th) – Two circus shows are on the agenda (at 4:30 and 7:30 pm), and both will feature high-flying acts, cunning animals, jugglers, and more. The cost to purchase tickets vary by age, so visit the Maple Leaf Festival site for more details.

· Parade (Oct. 21st, 9 am) – Traditional parade floats, marching bands, scout troops, and so much more will head through the Historic Downtown Square of Carthage early on Saturday, October 21st. Will you be there to watch or participate?

· Charity Costume Ball (Oct. 28th, 5 pm) – Break out the Halloween costume for an evening of dinner, dancing, games, drinks, and live music (please, no "Monster Mash") at this costume party. Just leave the kids at home with a sitter!
Be sure to head to Carthage at least one weekend in October! Many events are free to the public, and they're all incredibly fun.
2017 Missouri State Rally
Location: Coachlight RV Park (5307 S Garrison Ave, Carthage, MO)
Date & Time: September 15th - 17th
More Details: Facebook Events Page
Lovers of camping trips, this event in Carthage, MO is right up your alley. Buy a ticket, and you and a guest can enjoy two nights of camping at the wonderful Coachlight RV Park. Friday night will come with a King's feast, but Saturday is when the trip materializes thanks to a catered breakfast, buffet dinner, and plenty of games, activities, and raffles on tap. The campsite also offers easy access to several beautiful, scenic locations, including a 1920s-era village, an old-school Phillips 66 gas station, and the Carthage Civil War Museum, just to name a few.
Ticket prices begin at $125 per RV (for up to two campers, or so the website states), which is a spectacular rate for an entire camping weekend! Plus, if you have a lightweight fifth-wheel or travel trailer, you can hitch it up to your Ridgeline and make the most of your mid-September vacation.


Photo: facebook.com
Guilty by Association Truck Show
Location: 4 State Trucks (4579 Highway 43, Joplin, MO)
Date & Time: September 22nd – 23rd
More Details: Facebook Events Page
Fun for the entire family, this truck show features everything you'd expect. You've got fireworks, BBQ, tractor pulls, vendors, and an enormous semi-truck convoy to cheer on. Whether you enter your big rig or attend for the sights, you'll be impressed by each rowdy engine rev and tire squeal. Oh, if you've got some wares to "pedal"—see what we did there?—the event's second-ever Swap Meet should get you in front of some prospective customers.
This Joplin fall event is entirely free, even for entrants!
Burn Your Buns Bike Ride 2017
Location: The Water's Edge Campground (6614 Old Hwy 71, Joplin, MO)
Date & Time: September 23rd, from 9 am to 1 pm
More Details: www.eventbrite.com
Load your Honda SUV's bike racks for an early 30-mile ride along Shoal Creek in Joplin, MO. Lunch and shirts will be provided for racers, and all finishers will receive a medal. Once you cross the finish line, grab a bite to eat, hydrate with some H2O, and enjoy live music near the entrance of the campground.
Registration costs $20 and all proceeds from this ride benefit the area's Midwest Low Vision Technology Center. If you need to order and install a Honda bike rack, roof rails, or cross bars, visit our car dealership in Joplin, MO. We'll gladly place an order and get your crossover ready for the race.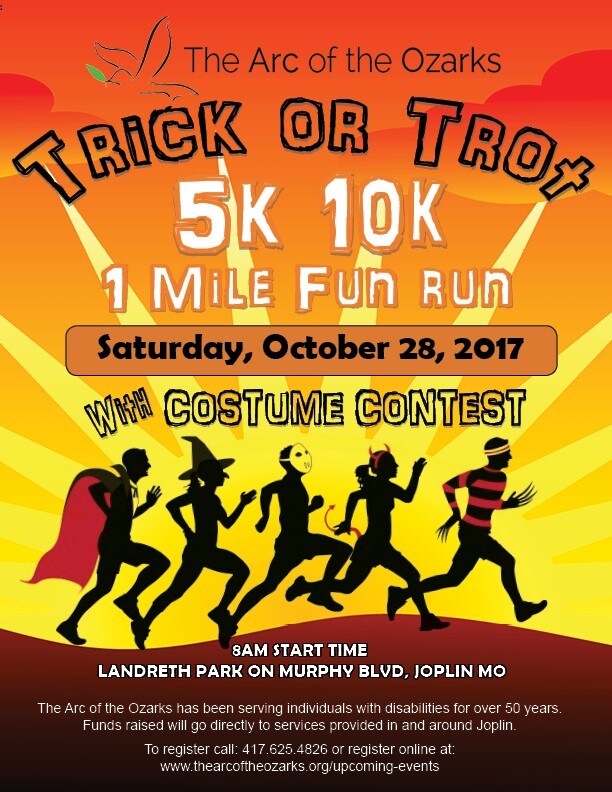 Photo: thearcoftheozarks.org
3rd Annual Trick or Trot
Location: Landreth Park (Murphy Blvd, Joplin, MO)
Date & Time: October 28th, from 8 to 10:30 am
More Details: www.thearcoftheozarks.org
Now in its third year, the Trick or Trot Fun Run features a 5k, 10k, and 1-mile race. Those who sport a Halloween costume are instantly entered in the "Best Dressed" contest, and winners will receive a treat. Soak up the holiday spirit with a sweaty run through Landreth Park, and you might even return home with a trophy.
Ticket prices vary by race, so be sure to review your options before signing up. All proceeds will go toward serving disabled individuals through The Arc of the Ozarks non-profit.
Fall Savings at Roper Honda
The best time to grab an amazing deal on a new or used car near Springfield, MO is right now! At Roper Honda, we have a wide variety of seasonal Honda deals on the newest cars, SUVs, vans, and trucks. Shop. Save. Love life by visiting our Honda dealership near Miami, OK before the falling leaves give way to snow. Contact us at (417) 625-0800 or head to our Joplin car dealership at 902 N Rangeline Rd to test drive a new Honda or pre-owned vehicle.
Sources & Photos:
https://www.facebook.com/events/1445462325496273
https://www.eventbrite.com/e/burn-your-buns-bike-ride-2017-tickets-34729672385?aff=ebapi
https://www.facebook.com/events/486542385040361
https://www.facebook.com/Guilty-By-Association-Truck-Show-269575989871269/
http://www.thearcoftheozarks.org/upcoming-events-hub/2017/3/21/3rd-annual-trick-or-trot-5k-10k-1-mile-fun-run
http://www.carthagemapleleaf.com/