Kelley Blue Book (KBB) is the source for so much info in the automotive world. Lenders use them, car dealers like us at Roper Honda respect them, and consumers know they can trust KBB for valuable information when researching new cars to buy. Perhaps one of the most valuable resources that Kelley Blue Book offers is their annual "
Best Buy Awards
" list, which narrows down the best of the best (obviously), alleviating customers' car-shopping stresses from the equation.
If you're in the market for a great 2018 midsize sedan, you'll be excited to learn that Kelly Blue Book has just awarded the 2018 Honda Accord the highest honor they can bestow on a new vehicle -- the coveted Kelley Blue Book "Overall Best Buy" Award! Surprised? Don't be, as reviewers from well-respected sites like Car and Driver, Edmunds, The Car Connection, and more all agree that the 2018 Honda Accord is a hard act to follow.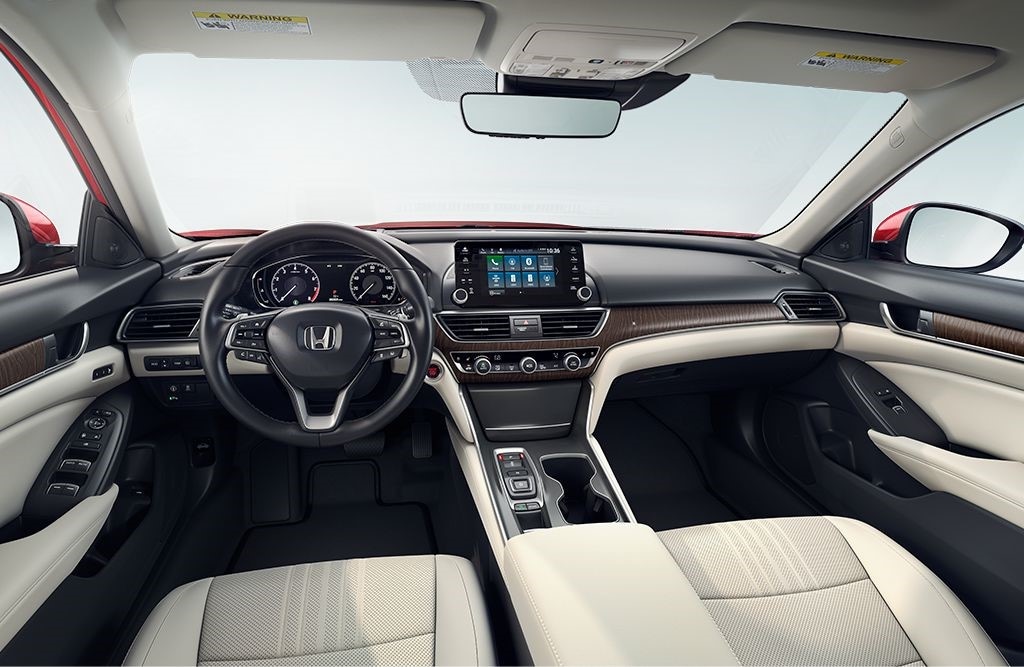 What Makes the 2018 Honda Accord Unbeatable?
Not only has the 2018 Honda Accord taken home a trophy for Best Overall Buy, but it's also won the fold for Best Midsize Car of the year. And it's pretty clear why the new Accord stands head and shoulders above its competition.
As KBB reviewers put it, "from the bold new look to the long list of useful tech, the totally redesigned 2018 Honda Accord is the most advanced, most sophisticated midsize sedan on the market. The new turbocharged engines are powerful and efficient. The driving-assist features are numerous and excellent. And the robust infotainment system is our new favorite in the segment." Well said!
Its redesigned exterior and cabin make for a great sight, so why not head to our Honda dealership in Joplin, MO, to check out the award-winning 2018 Accord? You won't be disappointed.

Honda Wins 7 Total KBB Awards in 2018
Kelley Blue Book only gives out a handful of Best Buy Awards in all each year, and for 2018, vehicles from Honda's 2018 lineup drove away with about half of them. Here's a brief rundown of the 2018 Honda KBB Best Buy champs:
2018 Honda Civic - A perennial favorite, the sporty, sophisticated, safe, and super fun-to-drive Civic has snagged the coveted KBB Best Small Car award for four years in a row now.
2018 Honda CR-V - From its impressively roomy interior and generous cargo room, to its smooth ride, excellent fuel economy and untouchable resale value, the new CR-V easily outclasses its competitors in the small SUV segment. That's why it won the KBB Best Small SUV award!
2018 Honda Pilot - It's no surprise that the Pilot was KBB's pick for Best Midsize SUV. After all, who else can boast a roomy, comfortable interior with plenty of leg and headroom and ample cargo room to boot? Add in its safety features, great resale value, and an unbeatable reputation for durability and reliability, and it's easy to see the 2018 Pilot is an all-around winner.
2018 Honda Odyssey - When Kelley Blue Book first tested and reviewed the 2018 Odyssey, they called it "the best family car in the world," and they haven't changed their opinion one bit since the redesigned Odyssey hit the road and snagged the KBB Best Minivan award. Quite simply, it's got everything you could ever want in a family vehicle – period.
2018 Honda Clarity - Let's see: five-passenger capacity, a 47-mile all-electric range, an available $7,500 federal tax credit, plus a powertrain that transitions seamlessly from electric to gas? Yep—that is the KBB Best Electric/Hybrid Award winner in a nutshell.
Here's your first 2018 New Year's resolution: Head over to your local Honda Dealer to get a year-end deal on a new Honda. With models like the Accord and Civic in stock, our Joplin Honda dealership is shoveling out award-winning greatness by the trunkload. Contact us at (417) 625-0800 to schedule a test drive, or just stop by our dealership at 902 N Rangeline Rd in Joplin, MO, to drive away a winner, too.
Sources & Photos:
https://www.kbb.com/car-news/all-the-latest/best-buy-awards/2100000577/
https://www.caranddriver.com/reviews/2018-honda-accord-first-drive-review
https://www.edmunds.com/honda/accord/2017/review/
https://www.thecarconnection.com/news/1113840_honda-accord-the-car-connections-best-sedan-to-buy-2018
https://www.kbb.com/car-news/all-the-latest/best-buy-awards-overall/2000011410/
https://www.kbb.com/car-news/all-the-latest/best-buy-awards-electric-hybrid-car/2000011407/
https://automobiles.honda.com/